We Are Hairy Review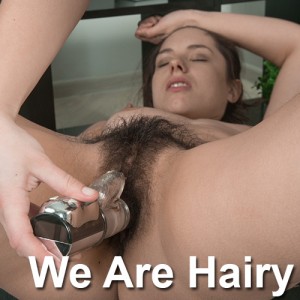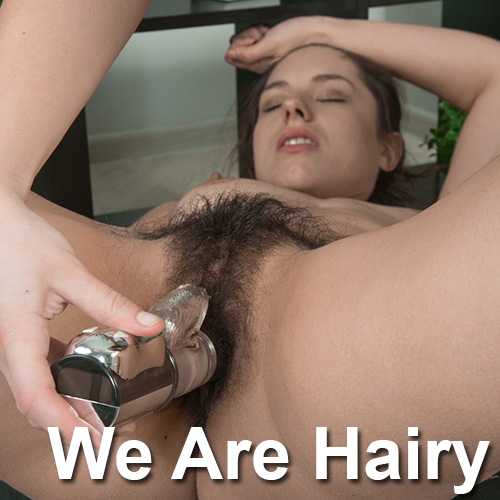 We Are Hairy has got to be the leader when it comes to producing hairy porn videos. These guys have been around for over 8+ years and have been pumping out quality hairy masturbation, hardcore and lesbian scenes consistently since then. I would consider them to be a proven success in the adult industry simply because they are fulfilling a need in porn – bringing authentic natural hairy pussy, legs, arm pits, and nipples to their sex and masturbation scenes. With an amazing 4509+ videos on their site and over 5240+ photo galleries, you simply can't go wrong joining We Are Hairy's membership pass if you're looking for authentic, amateur hairy porn videos. I took the time to properly investigate this site (it's one of my favorites of all time) and bring you the facts. All you have to do is read or watch my We Are Hairy review below to fully understand what you're getting when you join this porn site today.
We Are Hairy Video Review
Video Not Playing? Click Here To Download It!
The Women
The women at We Are Hairy are some of the hottest and most attractive amateurs you're going to find on a porn site that specializes in hairy women. These women are between the ages of 18-35+ years old and all have one thing simply in common; they're all hairy. The women vary considerably between hair / eye color, height, weight, breast size, pussy type, and other obvious features. The thing is the women here are so different, it's impossible to group them all into one category or group.
These women all share being naturally hairy in common. They all have a hairy pussy and some of them even have hairy legs, arm pits or nipples – or a combination of both. The length of hair certainly varies as well as you will see girls having different levels of hairiness. The thing about We Are Hairy is that the site really embraces the hairy aspect of their porn videos.
It's really nice to see truly hairy girls here. They don't just have trimmed pubes, they grow them all out and very long. I bet you're never going to see such a thick, full and long haired bushy pussy like you're going to see most of these girls have. Even the younger girls seem to have REALLY hairy pussies and that's rare to find these days in porn, unless you're browsing a hairy niche site like We Are Hairy.
The Action
The action at We Are Hairy varies considerably as well. You're going to find a mixture of hairy porn videos featuring hardcore sex, lesbian sex, masturbation and webcam shows (yes, real live cam shows that DON'T COST YOU).
The hardcore sex videos show beautiful hairy girls sucking cock, getting fucked, having their hairy pussies eaten and more. These sex scenes show multiple positions and a fun cumshot in the end, sometimes on their girl's hairy pussy or sometimes on her mouth or ass.
The lesbian sex scenes show beautiful hairy girls kissing, making out, finger fucking each other, eating each other's hairy pussy, using sex toys, tribbing and more. I think you're going to be very turned on seeing hairy lesbians playing with each other in these scenes.
The masturbation scenes show beautiful and hairy girls playing with their bodies. Whether they're teasing their pubes, hairy pits, nipple or leg hair, you're going to find these babes very attractive and enjoyable to masturbate to. I think you'll be happy to see these babes having real orgasms in front of the camera. They love playing with their hairy bodies and we enjoy watching them having fun.
There are webcam shows included free. I'm not talking about the ones you need to buy tokens for, I'm legit serious that We Are Hairy actually provides a live show for its members. This makes their site even more worthwhile. It's probably the best bonus they could offer and it really engages the hairy porn lovers of the Internet who want an interactive experience. It's all found here at We Are Hairy.
Shooting locations vary, but most scenes are featured in home like settings like bedrooms, bathrooms, living rooms, couches, bathtubs and more. I'm sure there are many I haven't witnessed yet, but I am excited to share them with you when I add to this review in the future.
Content Included
The member's area of We Are Hairy is packed full with over 4509+ full length videos and over 5240+ photo galleries too. The site updates about 2-3 times per DAY. Yes, you get multiple daily updates with your pass to We Are Hairy.
Video Specifications
Video quality is offered in 1280×720 resolution or 720p high definition quality. You can stream videos using the flash player or you can save them to your hard drive or mobile device in WMV and MP4 formats.
Photo Specifications
Photos come to you in high resolution at a maximum of 3000×2000 pixels. I think you're going to fall in love with these rich hairy photos. The site allows browsing of photos through the member's area of the site or you can download the ZIP file of the photo set to your computer. There's also a slideshow option you can utilize as well.
Bonus Content Included
We Are Hairy provides an excellent free live cam show (a real, website produced live cam show) to engage customers with the hairy models from the site. I think you're going to be truly impressed with these hairy live cam sessions that are included with your membership pass for free.
Possible Concerns
The only real concern with We Are Hairy is that the site produces videos in 720p HD still when 1080p HD and 4k resolution are the standard these days. I would love to see hairy porn in 4k resolution if they could add this feature anytime soon.
Conclusion
We Are Hairy definitely leads the porn industry with their hairy porn videos. If you're looking for the largest hairy girl collection of videos brought to you in high definition quality, you're going to want to check out this site. There are over 4509+ full length videos, 5240+ photo galleries and daily updates found inside the member's area of We Are Hairy. The site has good playback options, high resolution photos and even has a free live cam show to give back to their members and provide an entertaining experience for no additional charge. I definitely think if you were going to join a hairy porn site, We Are Hairy is definitely the one you want to have membership access to today. Join We Are Hairy Now!
We Are Hairy Sample Video
We Are Hairy Sample Photos
We Are Hairy Screenshots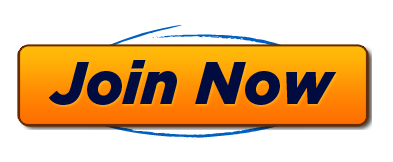 We Are Hairy User Reviews and Comments