Kink.com Review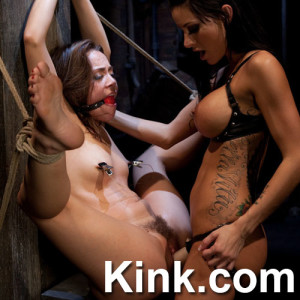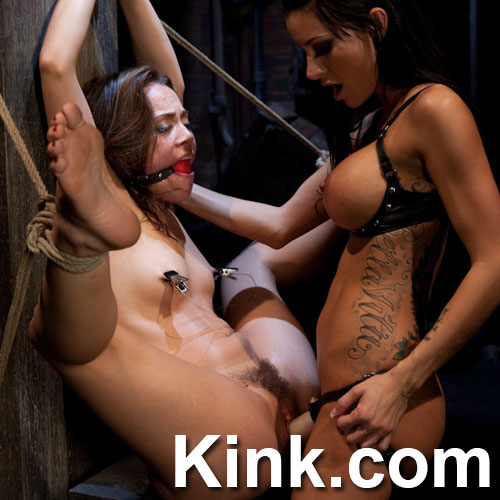 Kink.com is a new site (currently in beta), however is the primary hub or network site for all their network branded content. This site is actually a remake of Kink Classic or at least a redesigned and much more cleaner version offering the same type of content. The idea behind Kink.com's portal is simple. It allows you to join each individual site within it or just pay for the scenes from the network you actually want to see. Our Kink.com review comes to you with an exclusive video and written review for you to read and watch. We show you everything you need to know before joining this BDSM porn site.
Kink.com Video Review
 Video Not Playing? Click Here To Download It!
The Women
The women at Kink.com vary significantly. It's so variant that it's hard to describe. Put it this way, you get women from all walks of life in this membership pass. Mostly hot, skinny, strong with defined features like a chunky ass, big tits or a very pretty face. Some girls have hairy pussies, some are shaven and a lot of them are shaven down completely. There's a million (okay, not literally) different types of women to enjoy on this site. Tall girls, short girls, black girls, white girls, Asian girls, it doesn't matter – there is a big selection of them to enjoy when you browse the on demand section of Kink.com. These girls really look good. Makeup and clothing is appropriate to the scene. BDSM attire is used when appropriate too.
The Men
The men here are mixed in different looks. You're going to find that there's such diversity in men here too, just like the women. Some men are black, some are white, some are skinny, some are incredibly built. Some men here have facial hair, some men have huge cocks while others have decent, normal sized cocks. Some men have pubic hair, others don't. Again, since there's such a big diversity at Kink.com and its network, you really can't pinpoint exactly the standard man on this site. Men's clothing quality is on point. You'll see men in suits, BDSM attire and regular blue collar clothing too.
The Transsexuals (Tranny Girls)
I couldn't believe how many transsexuals were found on Kink.com. You guessed it, just like the men and women, the transsexuals are just as varied in appearance. Some tranny girls have big dicks, some smaller. Some girls are black, others are white, some are Asian. Most of the trannys here are passable, however a few of them have made me question how feminine looking they are (very few look like male cross dressers). All in all, some of them are very believable and it's hot seeing them in flawless makeup and clothing. They enjoy wearing lingerie and BDSM attire.
The Action
Since Kink.com is a combination of ALL their network site's content, you will find the available videos to feature a wide range of quality action. With the straight BDSM scenes, you're going to see a lot of standard BDSM bondage, torture, forced orgasms, girls tied up and fucked, public scenes, blowjobs, spankings, electricity play, lesbian sex, threesomes, water bondage, anal, regular sex with gag balls and more. There's literally endless possibilities when it comes to the straight scenes offered. I'm not trying to keep this overly short and sweet, but you really need to browse the site to get an actual idea of what you're getting because there's too much to list!
The gay scenes at Kink.com bring you, well, most of what was mentioned about the straight scenes only with two or more men involved. Lots of cock sucking, fucking, BDSM play, torture, whipping, rope play, nipple play, public scenes, water torture and tons more. You get the idea, again, check it out there's just way too many gay scenes to describe here.
Tranny scenes at Kink.com feature many different acts that take place through their sites. You're going to see hot transsexuals sucking male cock, eating female pussy, making men their bitch, cumming on them, threesome action with other men or women, torture of all kinds mentioned in the last two paragraphs and a ton more.
The reality is, Kink.com brings you way too much hot action that words cannot describe in a reasonable amount of text. You've got to browse the site and see pictures worth a thousand words and the videos worth millions. Check out the action, you won't regret it.
Content Included
The member's area contains access to scenes that can be purchased on demand. There are over 11325+ full length scenes that you can enjoy browsing through and purchasing on demand. The alternative is to join each individual site like Sex And Submission for example, that charges a monthly rate versus per scene. The scenes come with equal matching photo sets and a free video preview. You will not run out of content joining Kink today. Updates are happening every day with this pass, as it is a network site combined from many standalone BDSM sites.
Video Specifications
Most of the videos at Kink.com come to you in 1280×720 resolution. This is also known as 720p HD quality. You can watch these videos by streaming them in the flash player or by downloading them in WMV and MP4 formats.
Photo Specifications
Photos at Kink.com arrive in 1200×800 resolution which allows you to enjoy these pictures in high resolution. ZIP files don't seem to be included.
Bonus Content Included
There are no bonuses included with Kink.com. Everything is done via purchasing individual scenes or joining the site in which the scene came from originally.
Possible Concerns
Really, there are no concerns with joining this site. I think you're going to like it very much. I would like to see videos offered in 1080p in the future though.
Also, it would be nice to see a discounted rate available for anyone who joins other Kink branded sites through this membership pass.
Conclusion
Kink.com is precisely a video on demand site that allows you to purchase the scenes you want to see from the Kink network and all sites from within from a central location. The site gives you the ability to join the individual sites included in the network too, but primarily focuses on the VOD payment method. With thousands upon thousands of videos to choose from in HD quality, you can't go wrong checking out this BDSM site in all its glory. The site is regularly updated, has good playback and download options. Scenes are fairly priced. Join Kink.com Now!
Kink.com Sample Video
Just click play on each of the clips to see the videos.
Kink.com Sample Photos
Kink.com Screenshots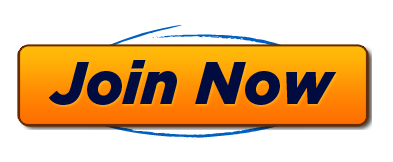 Kink.com User Reviews and Comments