Trans 500 Review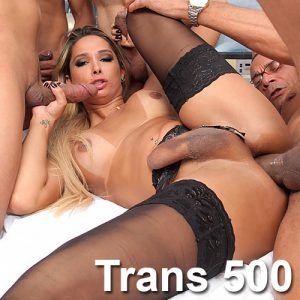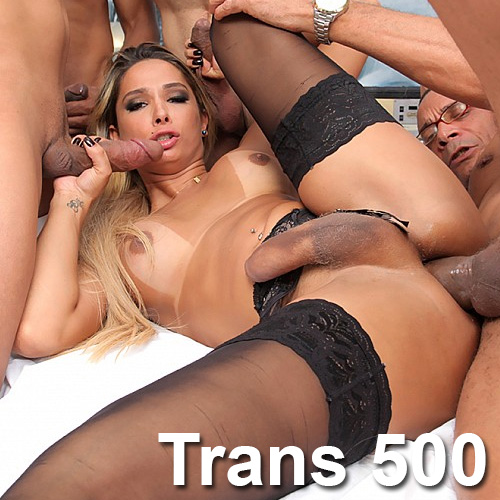 Trans 500 is a shemale / tranny network porn site that brings Internet users some of the hottest porn videos featuring hung transsexuals in beautiful 1080p high definition quality scenes. If you're someone who enjoys watching beautiful ts girls getting fucked by men, men getting fucked by trannys or trannys fucking trannys, you're going to enjoy what this porn site brings you today. This site comes to you with a ton of great quality porn videos and the website is always updating to bring you great quality scenes that you can truly appreciate. Access to Trans 500 comes to you with 6 sites that make the site what it is. All these sites combined give Trans 500 the content it needs to bring you a fulfilling experience. Read or watch my Trans 500 review below to fully understand all you're getting when you join this porn site today. I go through all the facts and figures with you so there are no surprises when you join the site yourself.
Trans 500 Video Review
Video Not Playing? Click Here To Download It!
The Shemales / Trannys
The shemales / trannys you're going to find at Trans 500 are very hot, beautiful and often times very passible (you would believe she's a girl until you see that cock). You're going to notice that most of these t girls are between the ages of 18-30 on this porn site. I would say the majority are in their 20s. These babes are extremely hot and their own personalities and looks. Most of them are categorized as good looking tranny pornstars if you could summarize them up a certain way. They have their own hair / eye color, breast size, ass size and cock size unique to them, but they generally have the a beautiful, fit frame you could bust a nut to.
Some girls here have bigger cocks than others, some girls have tattoos and some have a little bit of pubic hair while others are shaven. There are some white trannys, Asian, Latina, Mexican and black on this site.
I think you're going to be very turned on by the shemales / trannys on Trans 500 because they are some of the hottest top transsexual pornstars of all time. The site always showcases the hottest babes and they're all here to please you, the surfer in the end so they take very good care of their appearance.
The Action
The action at Trans 500 comes to you with hardcore fucking of all kinds along with shemale masturbation scenes too. Sometimes these t girls like to jerk their cocks off but other times they like to play with other trannys or men in their scenes. I think you'll find both situations very hot regardless.
The masturbation scenes are great. It shows a shemale playing with her giant cock in front of the video camera. She moans as she strokes her cock hard while playing with her tits and ass in the process. Sometimes toys are used to fuck her ass. Bottom line she plays with herself and eventually blows a thick load of cum from her sissy cock. It's really exciting and hot to see a t girl blow her load on video.
Hardcore sex is also available at Trans 500. You'll be watching the hottest t girls getting fucked by guys and also guys getting fucked by trannys too and finally trannys fucking trannys too. There's so many different combinations of hot anal sex that can happen in this membership pass but it shows a lot of anal, lots of blowjobs, lots of cumshots and kissing. I think you'll be pleased with the variety of hot sex scenes found at Trans 500 – you just have to see it yourself.
The scene shooting locations at Trans 500 are usually done in bedrooms and other household locations like living rooms. You'll find the odd scene poolside and other locations that you could expect tranny action to take place in a porno.
Content Included
The member's area of Trans 500 currently has over 1196+ full length porn videos that you can enjoy the moment you obtain access to the site. The website updates between 2-4 times per week to bring you new tranny porn regularly.
Video Specifications
The videos at Trans 500 come to you in 1920×1080 resolution or quite simply 1080p HD quality. You will enjoy the fact you can stream videos using the player or you can download them to your hard drive or mobile device in MP4 format easily.
Photo Specifications
The photos at Trans 500 come to you in a max of 1350×900 resolution. This is nearly high resolution, but could be shot in better quality if they chose to. You can enjoy browsing photos in the web browser or you can download them to your computer in ZIP file format. Slideshow options exist if you want the pictures to rotate themselves in your browser.
Bonus Content Included
Access to Trans 500 comes to you with 6+ sites combined into one membership pass for your convenience. A full list of included sites are found on the right hand side of this review.
Possible Concerns
Some videos don't have pictures with them, making the video counts bigger than the picture set count. This is okay, but worth noting.
The site has prechecked cross sales. Be sure to deselect any offers you're not interested in taking part in.
Conclusion
Trans 500 definitely brings you a great membership pass featuring hot tranny porn videos in 1080p high definition quality. The site is highly updated and brings you some of the hottest ts girl masturbation and shemale hardcore fucking scenes. The site is growing regularly and has a decent collection size. The video playback options are great and easy to use. The site comes to you with 6+ tranny porn sites included with it automatically so you're getting a great value from the start. I would definitely recommend you join Trans 500 if you are in need of a good shemale porn site that is highly updated. Join Trans 500 Now!
Trans 500 Sample Video
Trans 500 Sample Photos
Trans 500 Screenshots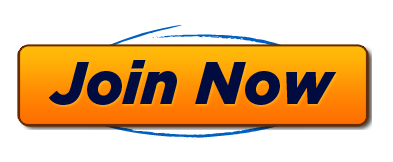 Trans 500 User Reviews and Comments